---
BLOG POSTS
Custom Cover Design for Books and Magazines
The cover of a book is very important , if not fundamental, because it is the presentation card of your work, of your publication.
The first thing we see in a book or magazine is its cover.  Therefore , the design of covers is an essential part of the editorial process. The cover as a whole (image, title, type of font, etc.) always draws attention and helps us to get an idea about the work and content of your publication.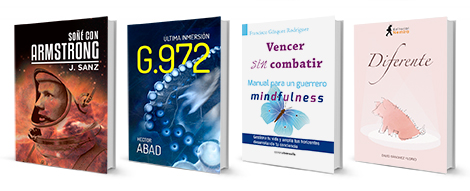 In addition, studies show that the design of a book cover  greatly influences the decision to buy a book or not; Is one of the main factors when acquiring a book.
So we would recommend not taking this part of your book lightly and not thinking that with anything is enough.
The cover design is going to contribute to increase or not the sales of your book, at least in the beginning.
We offer a team of mytcc graphic designers at your disposal for the personalized design of your cover , which can carry out your idea, using the most modern and professional programs: Adobe InDesign, Adobe Photoshop, Adobe Illustrator, Corel Draw.
We design the cover: cover, back cover, spine, flaps ; Calculation and adaptation of the spine; Adjustment of colors according to the press (RGB, CMYK); Crop marks; Preparation for printing.
We also create custom designs for eBook covers , for any eBook.
The cover of a book is very important , if not fundamental, because it is the presentation card of your work, of your publication.
The first thing we see in a book or magazine is its cover.  Therefore , the design of covers is an essential part of the editorial process. The cover as a whole (image, title, type of font, etc.) always draws attention and helps us to get an idea about the work and content of your publication.
In addition, studies show that the design of a book cover  greatly influences the decision to buy a book or not; Is one of the main factors when acquiring a book.
So we would recommend not taking this part of your book lightly and not thinking that with anything is enough.
The cover design is going to contribute to increase or not the sales of your book, at least in the beginning.
We offer a team of graphic designers at your disposal for the personalized design of your cover , which can carry out your idea, using the most modern and professional programs: Adobe InDesign, Adobe Photoshop, Adobe Illustrator, Corel Draw.
We design the cover: cover, back cover, spine, flaps ; Calculation and adaptation of the spine; Adjustment of colors according to the press (RGB, CMYK); Crop marks; Preparation for printing.
We also create custom designs for eBook covers , for any eBook.
The best canine training books
There are many books on canine education on the market, but not all have a quality content nor do they provide us with new and useful things for training our dogs.
There are many books on canine education on the market , but not all have a quality content nor do they provide us with new and useful things for training our dogs. At Tiendanimal we know the importance of educating dogs with reliable and positive methods developed by senior experts. For this reason, we offer you a list of the best canine training books published in Spanish. Practice the tips in these books to improve your relationship with your pet!
The clash of cultures , by Jean Donaldson. A new and revolutionary point of view that helps to understand the relationship between humans and dogs. Based on positive dog training ! It is a book that teaches how to train dogs without resorting to punishment or violence. The author focuses on the understanding of canine thinking to facilitate training and how this operant conditioning works in this training. With examples and practical guides you can put into practice theories to properly educate your dog.
Scientific psychology applied to basic obedience training for medium size dogs , by Miguel Díaz. Training based on respect! The author explains a method of training that is based on the knowledge of the dog , not forgetting the difficulties of this process and mention some tricks that help in this important task as is the education of the dog. It is a book that teaches how to perform basic obedience and also be clear why and why this method is carried out. A clear statement about effective training techniques : teach you to walk beside, do not pull on the leash, perform the sit, quiet and call exercise, etc.
At the other end of the belt , by Patricia B. McConnell. All about the behavior of dogs! The author explains in a pleasant way how the behavioral differences of the dogs and the people and the failure in the communication carry in many cases problems of conduct. The book shows how to learn to talk to your pet so that he can understand you, it is essential for the coexistence to improve.
Cognitive-emotional canine training , by Carlos Alfonso López García. A global approach to training! The author discovers how a dog thinks and feels emotions , which allows to work with greater freedom and security. It recovers the role of the dog as a faithful companion of the man, clearly explains what is cognitive-emotional training and how to apply it to any training, avoiding severe and rigid teachings.
Do not kill him … Teach him !: the art of teaching and training , Karen Pryor. Use positive reinforcement in training! The author focuses on explaining the importance of not using punishment in training and, on the other hand, always use positive reinforcement with the dog and behavior modification techniques. This type of training is like a game for dogs and offers excellent results.
What you can find in canine training books
In canine training books you will not only find the techniques of effective training and advice to carry it out, but some go further. By reading these books you will be able to acquire more knowledge about the thinking of the dogs , to understand why some actions are performed and not others in the training methods, you will know some of the clinical disorders of the dogs, their emotions and their intelligence. You will also discover tips for a peaceful and happy life with your dog , how to get the maximum welfare for pets … In short, you will know your dog more and will strengthen your relationship.
The best authors of dog training books
After reviewing the best books on dog training, we leave here some notes about the most valued authors in the canine world. So that you continue investigating in the best education for your pet!
Turid Rugaas : The Norwegian trainer focuses on teaching the language keys of dogs, in this way communication will be more effective. She is well-known for her great work in learning the signs of calm and how to motivate the dogs to walk without pulling on the leash.
Karen Pryor , the US biologist and author of books on positive reinforcement in dog training, is also in favor of the clicker method, a small box that when clicked sounds "click" and is very useful to teach different skills to the dog.
Have you been wanting more? These are other names of great authors on canine behavior and training: James O'Heare , Jean Donaldson, Jaime Vidal "Santi", Barry Eaton, Kay Lawrence and Linda Tellington-Jones
The School of Armory reflects its history in the book Mendeurrena-Centenario 1912-2012
The volume, which consists of 270 pages, compiles the one hundred years of the School with more than 500 photographs, will be presented on March 16 in the Assembly of Alumni.
Fernando Sagastigutxia and Iñaki Alberdi have made an exhaustive compilation of all the documentation and the photographic background; The text is the work of the journalist Rafa Zubia.
The book brings together the past and the present and begins a journey towards the future along its pages and, although more than 100 years have elapsed since the Eskuadra Zaharra gang asked Fermín Calbetón for his support for the Construction of the School and the Museum of Arms, in Eibar still survives with force the name and the presence of the school for gunsmithing as a mark of identity of the own city; A school closely linked to the vicissitudes of history, always aimed at the development of the industry and which has been the seedbed of many companies, but above all, entrepreneurs and skilled workers.
All this is reflected in the work as it is also observed that there have been countless characters who have visited the School seeing the photos they cover from the beginning of s. XX until 2012. There are Ortega y Gasset (visited the school in 1927), the businessman Patricio Echeverría (1947) the sculptor Eduardo Chillida (1978) or the physicist Etxenike and many other personalities from different fields of knowledge. Not to mention all the rulers, ministers or authorities who have come up to the top of Isasi in all these years. And, of course, not forgetting all the directors, teachers and students, who also are.
The index of the book tells us what are its guidelines:
1.- The school yesterday. A brilliant past. History of the School 1912-2012. Illustrious visits. Centenary.
2.- The school today. A living educational center. Current School Description.
3.- The school tomorrow. A future project. Initiative for the creation of the Integrated Energy Education Center. The Association of Parents of Students. The Alumni Association.
A magnificent compilation of the history of Eibar during the last 100 years that will allow us to find images, texts, interviews and articles within the framework of what was, is and should be the School of Armory.
The book will be sold in Eibar in the usual establishments at the price of 30 euros.
Guide learning and the necessary training
So far, my school was the experience with the kayak and the half, my father and a few more teachers / companions.
This past winter I have dedicated to studying the TD1, the necessary training to comply with the legality in Spain if you want to work in the world of kayak (unfortunately not always fulfilled …).
But for those who may be thinking of taking a title or are curious to know how the educational system around the sea kayak, here is some information from the seakayakermag.com:
Each country has its formative structure for kayaking. In Spain the Canoeing Federation has 3 levels of training for Sports Technicians ( According to the BOE) :
TD1: Basic level training in all forms of canoeing together: White water, calm water, kayakpolo, sea kayak (it is the qualification necessary to guide groups in Spain, it would be equivalent to a monitor or guide).
TD2: It is in one of 4 modes. In the case of sea kayak, the maximum level is 2 (according to what I have been informed, only 2 TD2 courses have been given in sea kayak in Spain and one in Catalonia); Equivalent to sports coach or responsible for activities).
TD3: Only exists in the modalities of whitewater and calm waters. The Federation does not consider that the knowledge of a kayak or sea kayak technician can go beyond …
In the world of sea kayaking the formation of the "British Federation" BCU (British Canoe Union) is also very popular and internationally recognized.
In Sea Kayak there are the following:
BCU1 (basic), BCU2 ( autonomous ), BCU3 (experienced),  BCU4  and BCU5(guides). This line evaluates technical and guiding skills.
Then there is training as a coach : BCU1 coach , BCU2 coach , etc. That evaluates the didactic capacities.
Nowadays, in many rental companies and guides around the world you are asked by the BCU3 to rent a kayak if you want to make a trip of several days, or, in any case, they do a level test themselves.
In my case the TD1 I did between Castelldefels, Ponts and the common block in Sant Feliu de Guixols.
But if anyone wants to learn sea kayaking I would not recommend this course at all. What you do learn is to be a monitor and a sports coach, but of skills of each discipline, very little.
For me, learning is always fun and having the experience of seeing how to use kayak from such different points of view was very enriching (kayakpolo, white water and calm waters).
The teachers worked hard to try to get everyone to learn, but the students had very different experiences and knowledge and could not demand much. Even so, all the students gave us the feeling of being more a bureaucratic process than a course.
Also add that some aspects did not seem very well covered. For example, the level of first aid seemed very basic and I am glad to have several first aid courses already made before. As for the knowledge of orientation in the natural environment so important in sea kayaking, there was no time to be treated on the agenda. However I think they will be covered in the TD2 kayak sea theme that I will do next winter. I'll tell you …
On the other hand, the BCU3 course did feel that it greatly strengthens technical skills and explores boundaries regardless of level. Of course, it is still an examination, you have to go with the studied subject: security, paleo, twists, supports and the much feared esquimotaje.
Do not be afraid of the esquimotaje because you can learn in a day if you already know the support technique.
Also we have the luck of being able to do the BC3 on the Costa Brava (yes, I also saved myself going to England, trip that is pending for the BCU4 soon) …
It is necessary to think that all these degrees have as objective to evaluate a degree or level, but the formation that you receive is limited, in other form: all these courses are not structured to give you the necessary time to learn but to transmit knowledge and to evaluate immediately .
In the end it's just a role … and the federations are for what they are. The best thing to learn is to practice new things, study a little, observe and hear a lot of those who have more experience.
In summary, in my case I think the TD1 prepared me more as a monitor and the BCU3 more as a kayaker.
But there is also something that is the most difficult to teach: the value of being a person. Respect, effort, companionship, humility, tolerance, generosity and love …
All that, like everything else, is learned by paracticing.
For me, in addition to feeling immense gratitude to those who have guided and taught me, I also feel that I must learn as a guide and monitor those who have allowed me to accompany them and guide them to enjoy and learn. You are my greatest teachers!
Thank you all for your patience and cooperation.
Preparing Children for the New Baby Book
Welcoming a new baby in the house is one of the most exciting events in the life of a family, or is not it? The expectant parents' feelings about the new family member are quite different from those of their children.
Some children anticipate the arrival of the new baby with excitement and adapt well to their new brother or sister. For other children, adapting to a new sibling can be a traumatic event. As a parent, what can you do to help young children share the excitement of having their new brother or sister?
According to MidAtlantic OBGYN T. Berry Brazelton, MD in his book Touchpoints: The Essential Reference , "Learning to live with others in a family is one of the most important learning opportunities anyone can have." Therefore, parents can use the situation of a new sibling to teach their children valuable lessons that may affect their current family as well as the child's future family. Teaching them to enjoy, accept and be responsible to others is possibly one of the most valuable lessons children can learn.
The Key to Adaptation: Sufficient Preparation
Simple preparation, including teaching and support, can make the difference between positive memories and traumatic nightmares. Charles, a father of four, says, "We allow children to participate in the preparation and care of their new siblings." Now, when they look at pictures or talk about the birth of children, they have many fun stories to share. Through these experiences to really care for other people. "
It is important to remember that each child is unique; Therefore, one should always consider the child's age, temperament and other developmental factors when determining the best approach.
Begin by preparing the children for the changes that will be presented when the new sibling arrives. The key is good communication. The child should hear the good news directly from their parents. Ana Maria, a 27-year-old mother, began to prepare her four-year-old daughter Alice by commenting to neighborhood children who had positive relationships with younger siblings. "Alicia used to be the only daughter, so she mistrusted what it would be like to have a new brother or sister. But when we started talking about her neighbor and friend Maria who had brothers and sisters, Alicia changed her mind and decided that a new baby in Reality could be fun to have around. "
However, I remember that the power of suggestion must be used carefully, as it can quickly become reality in the minds of children: do not mention the child who might not please his new brother or sister. Instead, discuss the fun opportunities you will have as an older sibling.
Another important part of a child's adjustment is to be sure of their own relationships before the baby arrives. These relationships could be with other family members or caregivers. Leaving your child alone with trusted family members or babysitters will help you observe that other people can take care of you in addition to Mom and Dad.
Activity Tips
Although psychological and emotional preparation is vital, it is also important to allow children to participate in activities that specifically remind them of the imminent arrival of the baby. Here are some suggestions:
Let the child attend the preparation of the baby's room. Children tend to be very territorial and often see the baby as an invasion of their space. Letting them participate in creating space for their new brother or sister gives them a sense of control and pride.
Go to a hospital before the birth. Ask the hospital staff if they allow children to travel so they can visualize where this great event will take place. Hospitals can be very intimidating for a child. It is best if you are introduced to this unique facility before the arrival of the baby.
Include your child in decision making. Including your child in decision making and preparation process will help you communicate your important role in the family. Ask your child to make suggestions to name the new baby. When you buy baby supplies and baby room furniture, allow your child to make some selections.
Learning New Facts and Skills
 Soon your child will be assuming a new role as a brother or sister – so it's a good idea to use language to remind you of this new stage. When discussing the new baby, refer to him as "your new brother" or "new sister," instead of "my new baby."
You can also give your child responsibilities he or she sees as a privilege, such as caring for and protecting the baby. Taking this role at an early age will help smooth the transition. "When our new baby Alex was born, our six-year-old son Paul shared the attention by taking the phone and announcing birth to his grandparents," recalls his mother, Kay. "He was happy to answer his questions: he made him feel part of the whole process."
Also being a new brother or older sister can bring you many new adventures. Select a hospital that includes siblings in at least one of the childbirth classes. Let the children play with any of the appliances the hospital sends home, such as plastic jugs, glasses, etc. Encouraging your child to make cards, photos and gifts for his new brother or sister and letting him or her open some of the gifts that people bring for the new baby can also be considered as an added gift. And what child would not be happy if asked to take pictures with a disposable camera?
Preventing Feelings of Rejection
 Naturally, young children are hungry for information and are very eager to learn. Depending on your child's age and emotional development, you may want to use this opportunity to present some basic facts about conception, prenatal development, birth and delivery. Books (such as Happy Birth Day by Robie H. Harris) can be especially useful.
Also this is an ideal opportunity to teach children how to care for a baby. Give your child a new doll and use it to demonstrate the proper way to caress, support and care for the new baby. Be sure to use appropriate terms when talking to your child. Explain many of the needs babies have in order for their child to be prepared to fulfill the commitment when they need it.
Also the important character qualities can be developed at this time. Praise your child when helping with the baby so he can learn the satisfaction of sharing with other people. Allowing you to "babysit" your brother or sister while you are on the phone, paying the bill, cleaning, etc. will give your child a sense of responsibility. However, it is important that your children are always well watched.
When a child is accustomed to the full attention of the father, it is difficult for him to accept anything that interferes. Be prepared to give extra support over the course of this time. Make sure your child knows that there is enough love for all children. Answer your child's questions honestly and listen carefully. Let him know that you understand that he may feel that he is being neglected. ("It's hard to get used to the new baby, right?"), But make sure he knows his love for him has not changed.
Sometimes it is necessary to make special arrangements. Plan individual trips with your child while someone else cares for the baby. Allow time each day to continue at least a few routines in which you participated with your child before they arrived in new baby, such as reading you books before going to sleep, holding you in your lap in the course of your favorite television program, etc. .
With some preparation and guidance, the birth of a new baby can be an exciting experience for the whole family.
5 Extremely SIMPLE Creative Photo Ideas by Photographer
After the initial excitement about buying your new camera you get bored, you run out of ideas, you start to think that the problem was not the camera but you. Do not worry, we all have moments of"creative depression" , are days in That we are not able to imagine a single photographic idea and carry it out with a minimally decent result. But you know what..? These are passing moments. Creativity is a given gift, that is true, but it can also be exercised through observation, inspiration and reading. The more time you invest in seeing and studying the work of other photographers, the easier it will be for you to find inspiration.
In the meantime it has occurred to me to share with you briefly 5 ideas with a high creative content. The methodology I'm going to follow in today's article is a bit different because the photos I will not expose openly but behind some links which you have to go uncovering as you read each idea. I do not want the photo to be the first thing you see, but read the idea, try to imagine it first, then you can click on the example photos attached at the end of each idea
1- From the Ground
Have you ever wondered how an insect sees our world? Seeing things from far down must be very different. We are accustomed to seeing everything from our height of humans that the photos made from the ground usually impress us. Whenever you like a landscape try putting the camera on the ground and shoot, you may have some pleasant surprise. Here's an example .
2- Depth of Field
Playing with the Depth of Field usually gives very good results. It can be applied in several ways: focusing the subject and blurring the background, or focusing on the subject only a very small part and letting the rest of his body or face is defocused. This technique works very well because it gives the feeling that things are much sharper in the picture than in real life. Here I am attaching a very illustrative example . If you stare at it you will realize that your eyes are automatically directed to the center of the photo, since it is the only focused area. This is a very small Depth of Field. (More on Depth of Field in the following article )
3- Lawn
Shooting from the grass is another very interesting creative resource. It consists of placing the camera on the grass or between some weed and shoot. It usually causes a very pleasant effect because the viewer perceives the sensation of being there, lying on the grass or hidden behind the plants. Here's an example .
4- A Photo within a Photo
There are editing programs and photo retouching with pre-prepared effects: you upload 2 photos and the program automatically inserts a photo inside another in some funny way. But here I do not mean that. Here I propose that you take a photo, that you print it with Hashtag Printer physically, and that you re-photograph it again in a context similar to where you originally took it. Here's an example .
5- Confusing Horizontal and Vertical
Normally when we look at a photo we know if the scene is horizontal or vertical. A wheat field is horizontal. A building, however, is clearly vertical.
What I propose to you in this technique is to confuse the spectator. Photograph something horizontal in a way that looks vertical or vice versa. It is about composing and shooting the photo from a perspective (or editing the photo later) that confuses the viewer. Do not worry, you will not be fooling anyone, most of the time the viewer will notice and even will sketch a smile while trying to guess what the scene was originally. The same smile that you will sketch when you see this photo  and this one
As you can see they are 5 simple ideas that are easy to carry out, do not carry too much complexity or require advanced photographic equipment, most can be applied even with a compact camera and even with a mobile phone. I hope they help you find the inspiration you need.
10 movies to stimulate your creativity
Your creativity needs to be nourished and these ten films are a feast for your imagination, which will help you to create and apply your ideas.
What does creativity feed on? Of ideas, places, forms, people, sounds, noises, music, letters, words, phrases, in short, people who at the end of the day are responsible for inhabiting and building the ecosystem of others. And to this extent, creativity will continue to feed on everything around other people.
So no matter what your turn or the profile of your position in the workplace , since everyone at some point in life (personal and professional) need incentives to exercise creativity and to bring about the moments of inspiration that inevitably , Will give a breath of fresh air to your mind.
And that is why for this Friday of films in which you can surely give a space for rest and recreation, we propose a selection of 10 Movie4k movies to stimulate your creativity . Do not miss out!
1. Smoke (The weight of smoke)
How would you sell the smoke? From this dilemma and from the creativity that would imply to answer it, the first selection is this film by Wayne Wang and Paul Auster (1995), in which yes or yes, you will learn something of the characters, the circumstances or the own lifetime.
2. Helvetic
It is a typeface installed in any electronic device, however, in this documentary by Gary Hustwit (2007), Helvetica becomes the protagonist of a story that takes us through the world of graphic design and whose qualities go beyond its Beauty and ubiquity.
3. Big Fish
A classic by Tim Burton (2003) in which the recreation becomes the thread of a story that lets us see all the common places of life between father and son and in which teaching becomes the great lesson.
4. Barton Fink
The Coen brothers (1991) could not miss in a film that supposed to be an incentive for creativity. And this time the recommendation is about a creator who is faced with the fateful moment: the writers block . And that's where the movie goes. Safety pin.
5. The September issue
Another documentary that lets us see everything behind the edition of one of the most famous magazines in the world. Directed by RJ Cutler (2009), this film strips the work of the editor of Anna Wintour that resulted in the September edition of Vogue magazine : a copy with 840 pages and weighing approximately two and a half kilos.
6. Source Code
Although the translations that some movies suffer when leaving their country are not usually the most favorable, it came under the title "Eight minutes before dying", and it is right there where the creativity of any person that is destined to that time of lifetime. What would you do?
7. Reserve dogs
From the distribution of names to the now epic dialogues of the film that won criticism in 1992, Perros de Reserva is a must-see reference not only in Tarantino's filmography , but also in the no-frills thrillers. And in this sense, discovering all the tricks that the filmmaker used to build this masterpiece is in itself a great dose of creativity.
8. Inception
Talking about a dream within a dream within a dream used to be a dream. And it is just with this argument that Christopher Nolan (2010) gave much to talk about (for good and for bad). The important thing is that creativity and imagination are undeniable. A classic of our times.
9. The Imaginary World of Dr. Parnasus
A journey through imagination, theater and lots of fantasy make this a must stop in this journey to keep creativity awake. In addition, as a curious feature of this film, the lead role was Heath Ledger , and as the actor died during this recording, Johnny Depp, Jude Law and Colin Farrell were in charge of supplying it in different parts of the film.
10. The incredible life of Walter Mitty
A superhero, a geek, a Godinez or simply a great character that ends up telling his incredible story, is perhaps the thread of an otherwise inspiring film. In addition, to make matters worse, the soundtrack is the best in terms of volume of music well acclaimed.
Which is your favorite? What other couch tuner movie would you like to add to this list?
WHAT IS RESISTANCE TO WEIGHT LOSS
Do you have resistance to weight loss?
What is resistance to weight loss?
How to Cure Resistance to Weight Loss
As a culture, we believe that if we simply stop eating so much and do some exercise, we can always lose weight. Personal trainers, nutritionists, and even with good intentions convey this message to women every day. However, there are still women out there who can not lose weight. Are they lying about what they eat and how much they exercise? I do not believe it.
My best friend joined the weight watchers and led her to weigh and measure every bite of food she put into her body. He has never lost a workout, never cheated with food, and every time he climbed the scale, he   found that he only lost a mere quarter of a kilo or even gained it. I know weight watchers work well for some people, but it did not work for her. And now I know it was because I had something called  resistance to weight loss  .
I can talk to women everyday who spend many hours in the gym, who starve themselves regularly, and just can not understand why they are not losing weight. The  resistance to weight loss is very frustrating, and often isolated. If this sounds like it, the first thing I want to say is that I do not think he's a big eater and he's doing everything he can. The reality is that there may be a metabolic imbalance that blocks weight loss, and once it is resolved, the weight will fade, stay away, and allow you to maintain a healthy weight.
What is resistance to weight loss?
Resistance to weight loss occurs when a woman develops or has a preexisting metabolic imbalance that makes losing weight and maintaining a healthy weight extremely difficult, despite her best efforts to eat less and exercise more.
Could be weight gain in your genes?
New research on genetics is helping us to understand that some genes cause metabolize fat differently than others. This means that certain types of food and exercise may be better for some people than stopping others.
While some women may lose weight on a low-fat diet, others may benefit from a more Mediterranean-style diet. While some women lose more weight with resistance to exercise style, others can do better with strength training. In other words, we are all different!
.
I'm not sure why our culture is always trying to put us in a box, one where the same solutions work for all people.Mother nature shows us time and time again that we are all unique. What works for you may not work for your girlfriend or your sister. Our differences in form, size, color, genetics, and personality are all worthy of embrace and celebration. You deserve to know what lies at the core of your weight loss puzzle and we can help you get there.
Here are the six major systemic imbalances that contribute greatly to resistance to weight loss in women:
Hormonal imbalance (including thyroid dysfunction)
Adrenal Imbalance (Chronic Stress)
Neurotransmitter imbalance
Digestive imbalance
Systemic inflammation
Detoxification Deterioration
Six Ways To Deal With Weight Loss Resistance
We often see a combination of previous imbalances in stubborn weight loss resistance, but as we begin to work with a woman, it is generally observed that predominates. Here are six key steps that you can start applying today. We have found each of these benefits to a woman's efforts – no matter how entrenched her resistance to weight loss.
1) Understand the unique physiology.  Work with a functional medicine practitioner or join a personal program for weight loss resistance to identify any metabolic imbalance that prevents weight loss. Once you figure out what your imbalance is, you can customize your nutritional plan and lifestyle changes to rebalance the system.
Along with meals and snacks, successful weight loss is facilitated by including certain vitamins, minerals, and cofactors in your diet. In particular, chromium, zinc, vitamin C, D3, and B vitamins are essential for healthy metabolism. So be sure to include a high quality multivitamin-mineral complex.
3) Move your body.  Even if you have been discouraged by the fruitless workouts of the past, regular exercise is essential for a woman's health. Especially to shake off extra pounds and maintain that healthy weight. Overcoming resistance to weight loss and restoring your metabolism will usually require a little sweat – but for those with little time, an interval workout is a super option -efficient.
4) Stress and emotional health.  For some, rebalancing your body can be as easy as ending a problematic relationship? There are people whose resistance to weight loss has its roots in tension. So take the time to explore what works and does not work in your life, because these things really influence the changes.
5) Find time to relax and sleep.   Quality sleep is something we have to do when we are too busy. But if you really want to lose weight, sleep has to become a priority. Not only does a good night's sleep allow our body time to recover, sleep plays an integral role in the hunger we feel. Studies show that very little sleep causes us to consume more calories. Eight hours sleep between 10:00 pm and 6:00 am is ideal when you want to overcome weight loss resistance.
It's time to solve the weight loss puzzle
I know you have been struggling with weight loss for a very long time, and you are likely to feel discouraged, discouraged, and maybe even guilty. Please, stop these feelings and release the guilt forever, your body, soul and mind. The  resistance to weight loss is not their fault. It is an underlying imbalance that prevents you from losing weight. Once this imbalance is resolved, the overweight will disappear – I promise. Seek the help of a nutritionist or a weight loss specialist and you will see the results.
2) Get the best raw material.  I suggest eating three well-balanced meals and two snacks a day. Organic fruits and vegetables are always good choices, but also make sure that every meal and snack includes some high quality protein like legumes, nuts, fish or lean organic meats. If you are often on the go, a snack made from whey protein and almond milk or water is also a great option. This helps maintain metabolism, while satisfying cravings.6) Get the benefit of Las Mejores Pastillas para Adelgazar Rapido and social support network.  Research shows that people who join in their efforts to lose weight are more successful. If you find a partner to start your new weight loss plan, join a larger group, gaining connection with others can really help you lose weight.
Creative SEO Marketing – The charm of SEO client
What do you want a client who approaches for the first time at the Online Marketing world? Working in this field for years, I can say that for the majority of customers the SEO (or the organic optimization, that is, for the search engines) is the prince strategy to promote it online.
Especially if the client is running an, is launching a new project or is struggling with the reconstruction of the old site, the seo marketing brisbane is considered as one of the first essential move to make and was personally asked us to design a strategy in this regard .
But why SEO?
I questioned several times about why people more inexperienced let themselves be seduced by the charm of SEO.
Surely type the name of your company or your service on Google and see your site in the top position can seem like a good guarantee in terms of visibility .
It is also known that, unlike other web marketing activities, a good SEO strategy allows to achieve good results and keep in time with relatively little effort: once obtained high positions on Google, the customer think you have already made that investment one-off enough to think "that's it!".
In a few they are well disposed towards cyclical investments, perhaps monthly payments for AdWords or Facebook's Ads. The same goes for campaigns limited in time, like a DEM.
SEO: Why it is not that simple
Although the advantages to acquire a good SEO strategy are many and undoubtedly appealing, there are also some things to consider: You do not say that SEO is the most effective strategy by far. Here's why:
Medium / long-term results : it takes several months to reach useful placement on search engines

Standings uncertain, not mathematical : Also by implementing strictly the Web Marketing plan, does not mean that you can reach useful positions for the keywords we are working

And 'necessary internal or external support : the company staff must participate in the activity of content creation , and it is not always so easy to find availability! It may also entrust the task of the agency, but in this case it is required a greater economic investment. In addition to content creation, you must also think about the changes OnSite and Link Building , and even then it is often necessary for an external consultant to deal with it or, in the case of OnSite changes, good support from developers …
SEO or SEO?
As often happens in the world of Web Marketing, you can not give a clear answer.
SEO is undoubtedly a very valuable strategy, but its effectiveness depends on the target to which it addresses the promotion, from budget of the client and, not least, the resources present in the company both in terms of availability than technical skills .
If we consider that SEO is not the best way, it is extremely important to try to steer the client towards solutions that might be less "attractive" but more adequate.
It is not easy, because customers often present with very subjective ideas on the Web Marketing: lists of key words to position themselves (perhaps with very low search volumes), negative opinions about the ads or DEM ( "I announcements them I ignore them and do not ever I click! "," I advertising email always trash! ", and so on …).
The approach we adopt in QuoLAB is to always handle on numbers and data : we focus on this to try to introduce our customers to the Web Marketing world. We pause to explain how, unlike traditional advertising, there are many ways to measure the effectiveness of an online campaign (visits, clicks, time on site, pages viewed, and other metrics).
In conclusion: if you're an agency that sells Web Marketing services (or if you are a customer who is getting closer to this world), weigh up if the SEO is the most appropriate way or if you should orient yourself on other strategies.
Creativity And Imagination In The Promotions Of Laser Hair Removal Centers In Madrid
The laser hair removal scottsdale az are the most innovative in terms of the application of the latest developments in laser devices, with leading equipment and qualified personnel in constant recycling, but also with regard to the models of offers and Promotions.
The laser depilation centers and those who are also dedicated to photodepilation in Madrid give away small areas with their hair removal promotions. They usually give free laser hair removal under armpits or forearms or female upper lips, in a session or even some more; If laser hair removal is contracted from larger areas such as full legs or arms, also in full. Look at this, because some laser hair removal centers never distinguish between men and women when it comes to paying the costs of their laser hair removal. Identical prices apply and the promotions are the same for both of them. Keep that in mind.Their price catalogs are an example of creativity and imagination, always having the patient as a beneficiary of a scaled repertoire of bonuses for all the laser hair removal services they maintain in their attendance lists. Look carefully where these promotions are because you can get authentic tea that can help you, and for very reasonable prices, to achieve your ideal of beauty. That easy.
Remember that in some cases some laser hair removal centers in Madrid give you those same hair removal points if you invite a friend or a friend to do the same treatment as yours, an equivalent or, in other situations, a totally different one, The one you choose. Almost nothing.
When the summer campaigns arrive , also keep in mind that some laser depilation centers in Madrid and others that are dedicated to medical photoepilation, offer discounts, promotions with seasonal prices. Normally, the most requested laser hair removal at that time in girls are the areas of the English and legs, there may be opportunities for the promotions that you have to take into account.
How ?, then following up on the portals of Madrid laser hair removal centers that are conveniently updated before the start of each season with their lists are prices and their promotions of the moment. Keep in mind also that all promotions announced by the clinics have expiration dates, their validity expires and can normally be contracted during the time they are in force without the possibility of prolonging them. Thus, the summer tend to be active promotions only until the end of September current.
And in this line of comments related to the promotions that are sure to interest you, we are struck by the model of promotions that has been imposed in the last campaigns and that some laser hair removal centers in Madrid call pyramid promotions. What is it? Then apply proportional discounts to all services taking into account the prices of depilated areas.
Let's take an example, so you can understand us. If our treatment costs us between 30 euros and 60 euros, we make a reduced price reduced by 10 euros. If the laser hair removal sessions have cost us between 60 euros and 105 euros, the discount goes up to 15 euros, and so progressively until reaching 30 euros for session costs of up to 250 euros.
What is attempted to prevail with these initiatives of promotions is to reduce the prices and the expense of the patient in the inferior sections of the sessions of laser hair removal, which have a lower cost. In any case, and this is common to all promotions of laser hair removal centers in Madrid, none of which can be accumulated with others that can also offer the same clinic.
The promotions of the centers of laser hair removal in Madrid offer a wide repertoire of options, of prices subsidized, to get your image to fit the one you want, without this means a disbursement that leaves without your dream. You deserve it.
Unique configuration for whirlpool tubs
Buying a whirlpool is an opportunity that many people dream of doing someday. And when your dreams come true, you must consider creative ways and places to install them. After all, who wants to soak while staring at a neighbor's yard or some kind of monstrosity? The setting for your new spa tub should be just as inviting as the whirlpool for body and health. Continue Reading below:
Your logistics reality
The first step is to determine and accept the reality of where you can install your whirlpool. You should be aware of property lines, any city or building codes and owner association rules, as well as have access to the necessary water and electrical outlets.There is no point skipping this important step as it can slow down the whole process of finding the perfect place for your whirlpool.
Whirlpool bathtubs included
If privacy is a concern, there are many creative ideas you can use to create your own environment. You can build an Asian-inspired wooden structure and use outdoor fabrics to create curtains so you have your own private meditation and soaking sanctuary. Tie in your landscaping and add a rock garden to complete this look. Another idea is to buy a kit or a pre-built wooden structure. These can be as detailed as your budget allows. And because this area is included, you can enhance the settings with a flat screen TV or a stereo for added enjoyment.
Whirlpool baths with views
An ideal place for the installation of your hot tub is in a place with a breathtaking view of the mountains, the sea or a landscaped portion of your patio. This unique setting will allow you to enjoy the view you paid for both during the day and when the stars are up at night.
log cabins with hot tubs uk that need a view
If you do not have a view, then be creative and make one. Go online and look at fabulous places and then re-create your own version of what you've found. For example, New Orleans has beautiful brick patios with beautiful and lush plants. You can recreate this look by using an existing brick wall, building a wall or a patio or using other types of fence for mounting hanging plants, wrought iron decoration or a water feature as a fountain. Tips for success here is to identify your budget along with your logistics reality. By controlling these two things and a little creativity, you can define your own settings for your whirlpool.